26th July – 7th August at the Irish Museum of Modern Art, Kilmainham, Dublin 8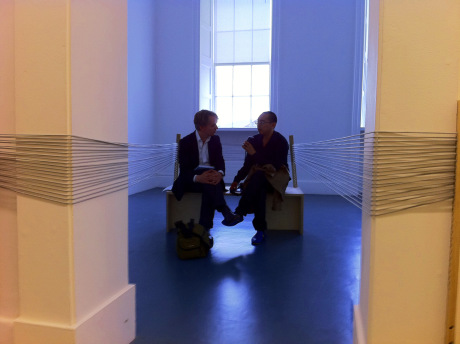 Subjective observation of pace and patterns of use at the Irish Museum of Modern Art / The Royal Hospital Kilmainham has led to prototypes or micro solutions for generous uses of the museum building and grounds. An elasticated barrier creates and leaves space – maintaining a safe distance from which to peruse an artwork, or creating an accommodating support for a viewer to rock gently against.
Outside the main Museum reception a leaning table highlights the potential for the formal neo-classical geometry of the building to have accommodating edges.
Drawing on Hertzberger's ideas of 'making space and leaving space' Polyvalency is work in progress resulting from a research residency exploring issues of access to and mediation of contemporary art carried out in tandem with direct investigation into the built environs of IMMA / RHK and its grounds. Between March and June 2011 the research residency undertaken by Culturstruction at IMMA included exploring rights of way, generous spaces, exclusion zones, collective endeavour, raucous celebration and ways in which barriers simultaneously protect and exclude.